STEPN, Genopets and Dotmoovs are the large market cap players in the Move-to-earn sector. However, there are lots of other Move-to-earn crypto tokens, each trying to secure its share of the market. Here's a list of five projects, most with relatively small market caps, that also reward users for staying active.
Note: The list below is ordered by the current market cap, lowest to highest.
#5 Aircoins (AIRX) – $1.6 million
Aircoins (AIRX) was launched in April 2021, and it's a Move-to-earn project enabling an interactive way to earn cryptocurrency. It's similar to the geocaching game where users can go to various locations and claim cryptocurrency.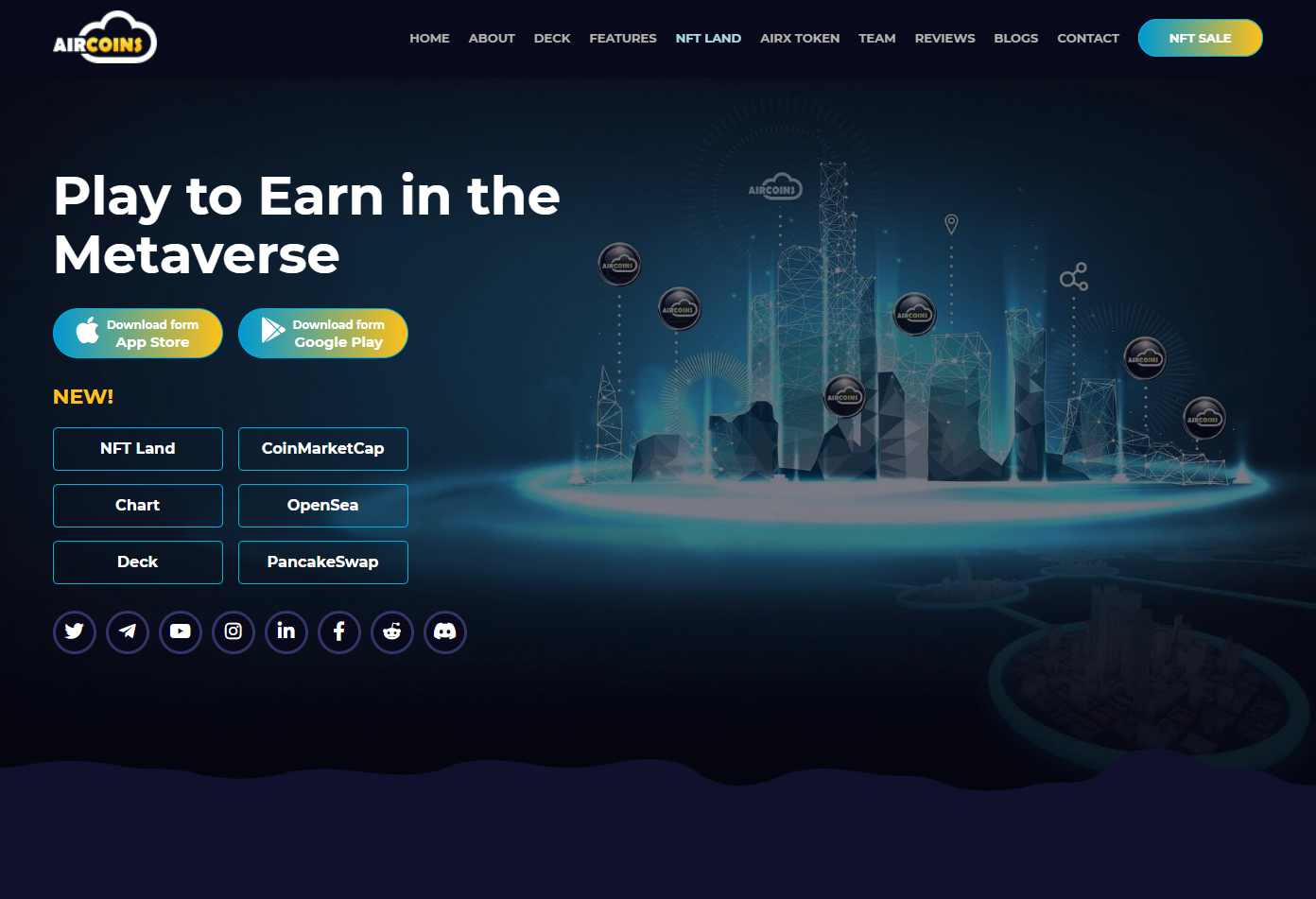 Aircoins integrates the play-to-earn model into its platform along with an Artificial Reality Metaverse that engages users to teach them about cryptocurrency projects in the space.
Users can check out the Aircoins mobile app available on Android and iOS devices and find coins using the Aircoins proof of effort algorithm. Players are rewarded for their efforts while staying active and maintaining a healthy lifestyle.
Additionally, Aircoins is working on enabling users to buy virtual real estate on the platform in the form of non-fungible tokens (NFTs). Players can earn AIRx tokens monthly by holding the Aircoins digital real estate.
With a current market cap of under $2 million, Aircoins is an undervalued Move-to-earn token that could see significant price growth as they onboard more users to their platform.
Aircoins can be bought on LATOKEN, PancakeSwap and OpenOcean.
#4 Wirtual (WIRTUAL) – $3.7 million
Launched in March 2022, Wirtual (WIRTUAL) is another small cap Move-to-earn crypto token that rewards users with cryptocurrency through exercise. The projects goal is to transform users' healthy habits into cryptocurrency by incentivizing activity.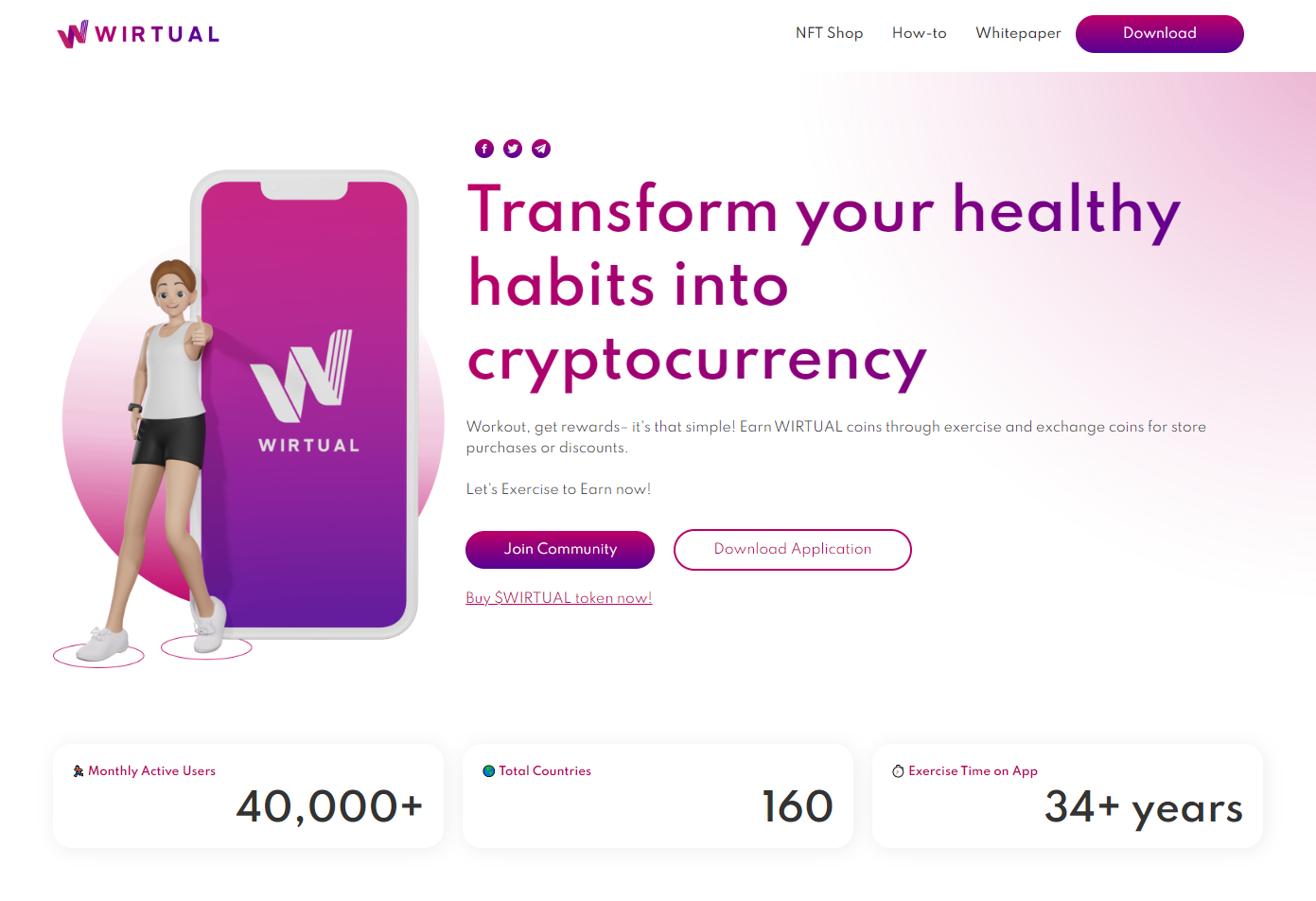 Wirtual features over 40k monthly users spanning 160 countries. The total exercise time on the app exceeded 34 years, demonstrating the high potential of the project.
Users can download the Wirtual app and join their running, walking, swimming, cycling, dancing or working out activities from anywhere. Players submit their results to earn WIRTUAL tokens.
One unique feature about Wirtual is its Sweat Mining mechanism. It's a new way to mine cryptocurrency that's affordable and easily accessible to anyone worldwide. Users track their activities using their usual fitness devices like Fitbit or Apple Health, and in return, they can earn WIRTUAL tokens. The top gaining users can earn up to $50 per day from their activities!
The Wirtual app is available on both iOS and Android devices, so users can quickly get set it up to get rewarded for their healthy lifestyle and daily activity.
The primary utility asset on the platform is WIRTUAL, a BEP-20 token residing on the BNB chain. WIRTUAL's primary utility is distributing it to users as a reward.
To purchase WIRTUAL, go to PancakeSwap, LBank, BKEX or DODO (BSC).
#3 Digital Fitness (DEFIT) – $4.6 million
Digital Fitness (DEFIT) launched in April 2021, and is a cross-chain cryptocurrency operating on the Polygon and Ethereum blockchains. Its purpose is to bring the world of sports and fitness onto the blockchain, leading the Move-to-earn movement.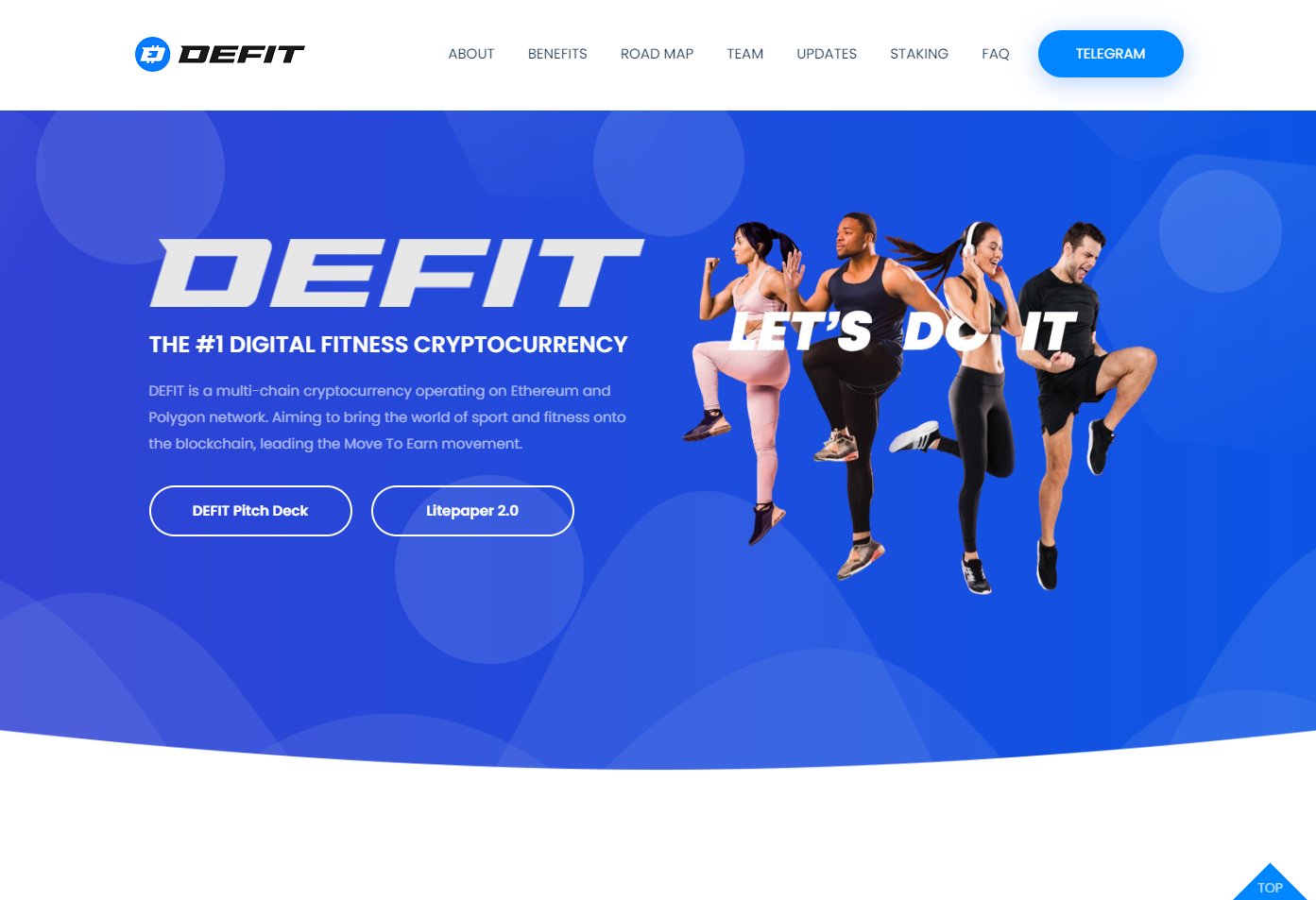 The Digital Fitness team wants to build a complete digital fitness marketplace powered by its token, DEFIT. Digital Fitness is looking to reward users for leading a healthy and active style with DEFIT tokens like the other projects on this list.
The project features a mobile app currently in development that users can check out on Android and iOS devices. Keep in mind that the project is still in its early stages, hence the relatively small market cap of $4.6 million. The app will feature a community-first marketplace for health and fitness professionals with DEFIT at the heart of the ecosystem.
The primary utility asset on the platform is DEFIT, featuring both ERC-20 and Polygon versions. DEFIT will be used on the platform's marketplace and will be rewarded to users for participating in its ecosystem.
DEFIT can be purchased on Uniswap (V2), MEXC, ProBit Global and QuickSwap.
#2 Calo (CALO) – $6.4 million
Launched in December 2021, Calo (CALO) is another underrated Metaverse and Move-to-earn crypto token. It features a blockchain system that provides users with a chance to work out on a daily basis either in single or world challenge modes. Calo also records players' training results and converts movement into valuable rewards.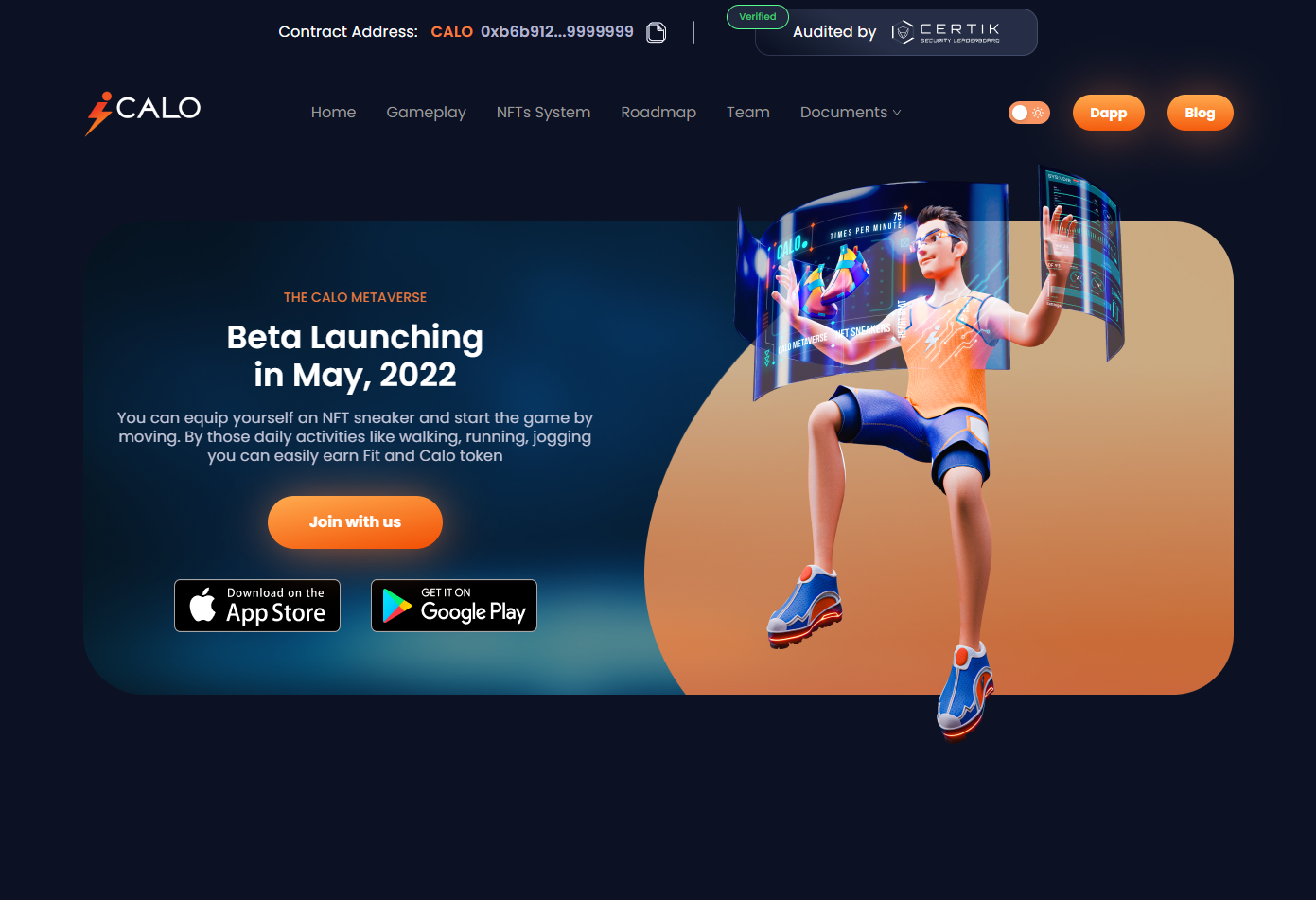 The Calo Metaverse is looking to change the world's healthy lifestyle trend by providing more value to the process of personal workout and moving. The project's vision is to create a safer Metaverse where people can connect through sports activities and moving.
Calo features a robust earning mechanics system with various incentives. There's the daily stamina cap for the single-mode, where users can gain NFT sneakers to raise their stamina. Users can earn rewards through their burn-to-earn process by holding sneakers and staying active.
Calo also features a mission system where users can earn rewards for completing missions. Finally, Calo integrates an anti-cheat system involving GPS tracking that penalizes accounts found to be using fraudulent methods to gain rewards.
Calo features a mobile app on the Android and iOS devices users can check out, called Calo Run. Users can install it to explore its ecosystem.
Calo is powered by the CALO token, a BEP-20 asset residing on the BNB chain. CALO is distributed to users as a reward and can be used on its NFT marketplace.
Purchase CALO on PancakeSwap or BitForex.
#1 Step App (FITFI) – $84 million
The largest market cap Move-to-earn token on this list is Step App (FITFI). Launched in April 2022, it's a next-generation fitness app looking to turn users fitness goals into income, social joy and with friendly competition. Powered by the leading technology in Metaverse, blockchain, and augmented reality, Step App is currently one of the highest-valued Move-to-earn tokens, with a market capitalization over $84 million.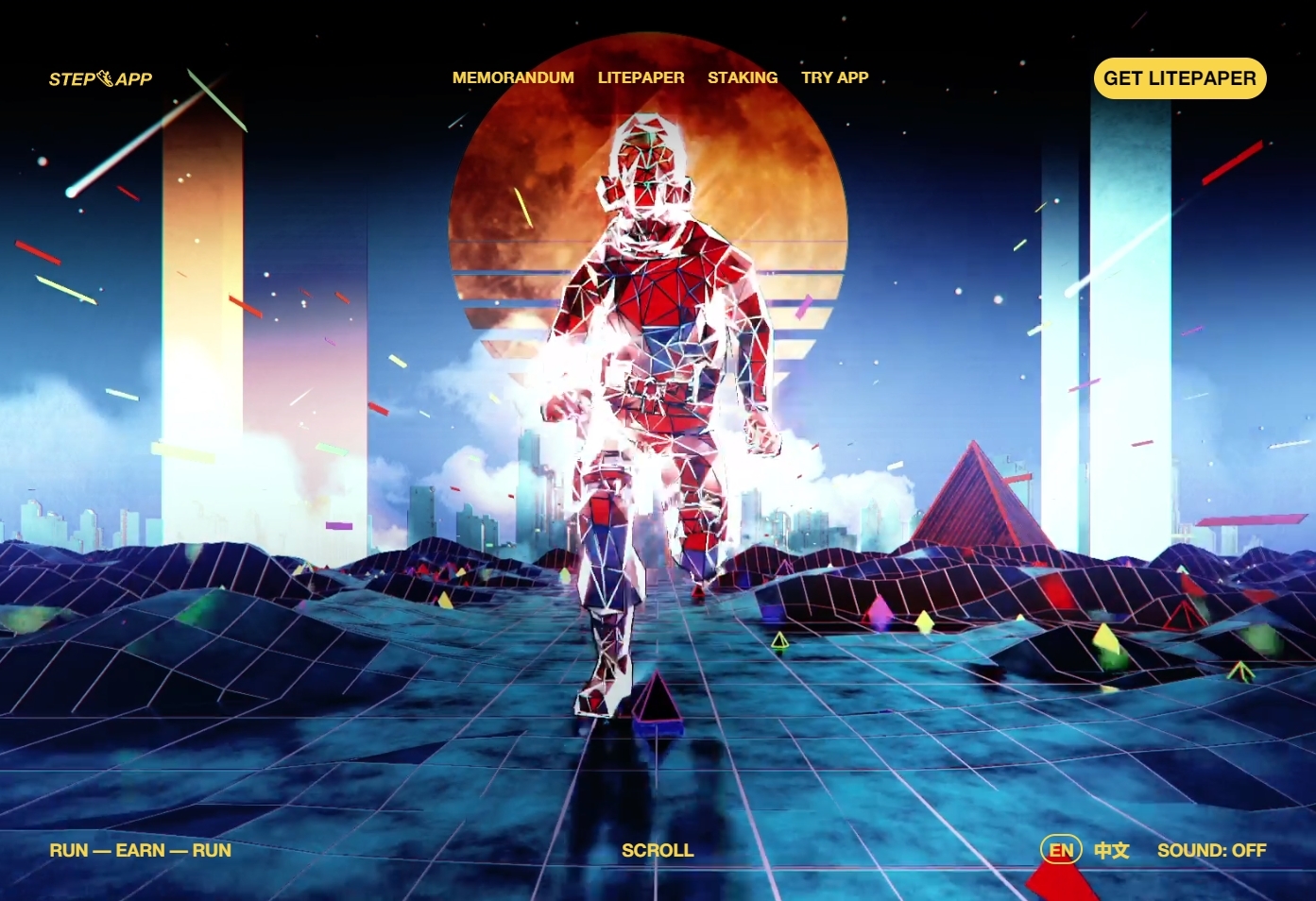 As the name suggests, the Step App rewards users with cryptocurrency for taking steps. Currently, the app boasts over 125k users, reflecting the project's tremendous support and long-term potential.
The platform revolves around users collecting FAT points every day, inviting referrals to collect even more FAT points and then converting their FAT to KCAL by burning FITFI tokens.
Step App is still in its early stages, and the app isn't yet available for users to try. It could be a project to watch closely, since it's reached a market cap over $80 million only a month after launching.
In addition, the team is working on its staking feature that will enable holders of FITFI to earn even more rewards.
The platform will be powered by the FITFI token, which can be purchased on Crypto.com, OKX, Gate.io, Huobi Global and MEXC.
Conclusion and Other Move-to-earn Competitors
The Move-to-earn sector has been one of the best performing crypto categories so far this year. Several projects in the space have just launched in the last few months, with more expected to join them. Check out this 2022 Guide for information on other Move-to-earn competitors and the risks involved. Move-to-earn will certainly be an interesting category to follow in the months ahead.
---
Also Read:
Image Source: choreograph/123RF