Chiiz price increases 17% in the past week as the price of Bitcoin and Ethereum drop after The Merge
Chiliz (CHZ) price has maintained its upward trend and faced a hard time surpassing the $0.2590 intra-day high. Chiliz, a coin focused on sports and entertainment, was the biggest gainer for the week ending September 19th. However, CHZ failed to maintain an uptrend.
Chiliz token is a digital currency that allows users to exchange tokens to show their support for professional sports teams. Even though the rest of the crypto market is in decline, the Chiliz price has increased by an astounding 17% in the last week. This rise could be due to a number of things, such as the upcoming release of Chiliz Chain 2.0 (CC2) and a new Fan Token.
1/19 @MessariCrypto states recently: Soon DAPP will be bigger than any L1 & will move to their ownblockhain for better interoperability. @Chiliz announced in Feb-22 the creation of its new #blockchain Chiliz Chain 2.0.

Quick 🧵on Fan Token and #DeFi opportunities#NFA

— Subli 🦋⚔️🔴👻🚴 (💙,🧡) (@Subli_Defi) September 18, 2022
Ongoing collaborations with sports organizations such as FC Barcelona, Paris Saint Germain, Manchester City and Atlético de Madrid have contributed to Chiliz price by raising the project's profile.. On the other hand, Bitcoin (BTC), the world's oldest and most valuable cryptocurrency, has surpassed the $19,000 mark and is showing signs of recovery.
This was viewed as yet another important factor that boosted Chiliz price.
Chiliz outpaces Bitcoin and Ethereum
Over the same period, the cryptocurrency has outpaced Bitcoin (BTC) and Ethereum (ETH), which fluctuated between gains and losses. But this upward trend could be caused by a number of things, such as the release of CHZ 2.0 and a new fan token.
Chiliz has followed in the footsteps of other networks that undergo network updates, "Merges," and hard forks, such as Monero, Ethereum, and others.
As a result, Alexandre Dreyfus, the founder of Chiliz, revealed the platform's plans to migrate to CHZ 2.0, its native chain. Alexandre Dreyfus, the creator of Chiliz, announced that the company would stop using the Ethereum blockchain to launch its fungible and nonfungible tokens and instead use its native chain, CHZ 2.0. "We don't have to rely solely on ERC20 or ERC721 similar," Dreyfus added.
As a result of this statement, the CHZ experienced a 19% intraday price increase and an increase in trading activity. Technically, the action demonstrated traders' confidence in the CHZ 2.0 announcement.
Whale Activity
The price of CHZ was boosted further by an increase in whale activity. On August 23, there were 105 CHZ transactions valued at more than $100,000, a record high since March 29.
On the same day, the price of CHZ increased by about 12.5%. The increase in CHZ whale activity, volume, and price show that the token has been bought by most wealthy investors since CHZ 2.0.
The Crypto Market after The Merge
The cryptocurrency market has broken its losing streak and attracted some modest bids. Bitcoin (BTC), the oldest and most valuable cryptocurrency in the world, has passed $19,000, which shows that it is starting to recover after a short drop.
On the other hand, Ethereum (ETH post-Merge)'s bear run continued as it failed to break through the $1,400 mark on Tuesday morning. During the late US session, several well-known altcoins, including Dogecoin (DOGE), Ripple (XRP), and Litecoin (LTC), reached positive territory.
TerraClassicUSD (USTC) and Chiliz (CHZ) were the most successful tokens in the group, gaining more than 16% in a single day.
Focus on the Federal Reserve
The coin benefited from the modestly negative sentiment toward the US dollar. With hawkish remarks, the Federal Reserve is expected to follow up on its widely anticipated interest rate hike this week, prompting markets to rethink how high rates can go before peaking.
However, the US dollar bulls are unlikely to be dethroned anytime soon. The US dollar index, which compares the greenback to a trade-weighted basket of six major currencies, fell 0.1% to 109.44, but it is still close to its highest level since 1985.
The Fed is highly likely to increase the interest rate from 2.50% to 3.25%, and this could make the dollar stronger and cryptocurrencies bearish.
Chiliz reaches #37 on CoinMarketCap
CHZ is now trading at $0.230198 with a 24-hour trading volume of $533 million. Chiliz has dropped by 6.54% in the previous 24 hours and 20.81% in the last seven days.
On CoinMarketCap, Chiliz now ranks #37, with a live market cap of $1.3 billion. There are 6,000,386,953 CHZ coins in circulation, with a maximum supply of 8,888,888,888 CHZ coins.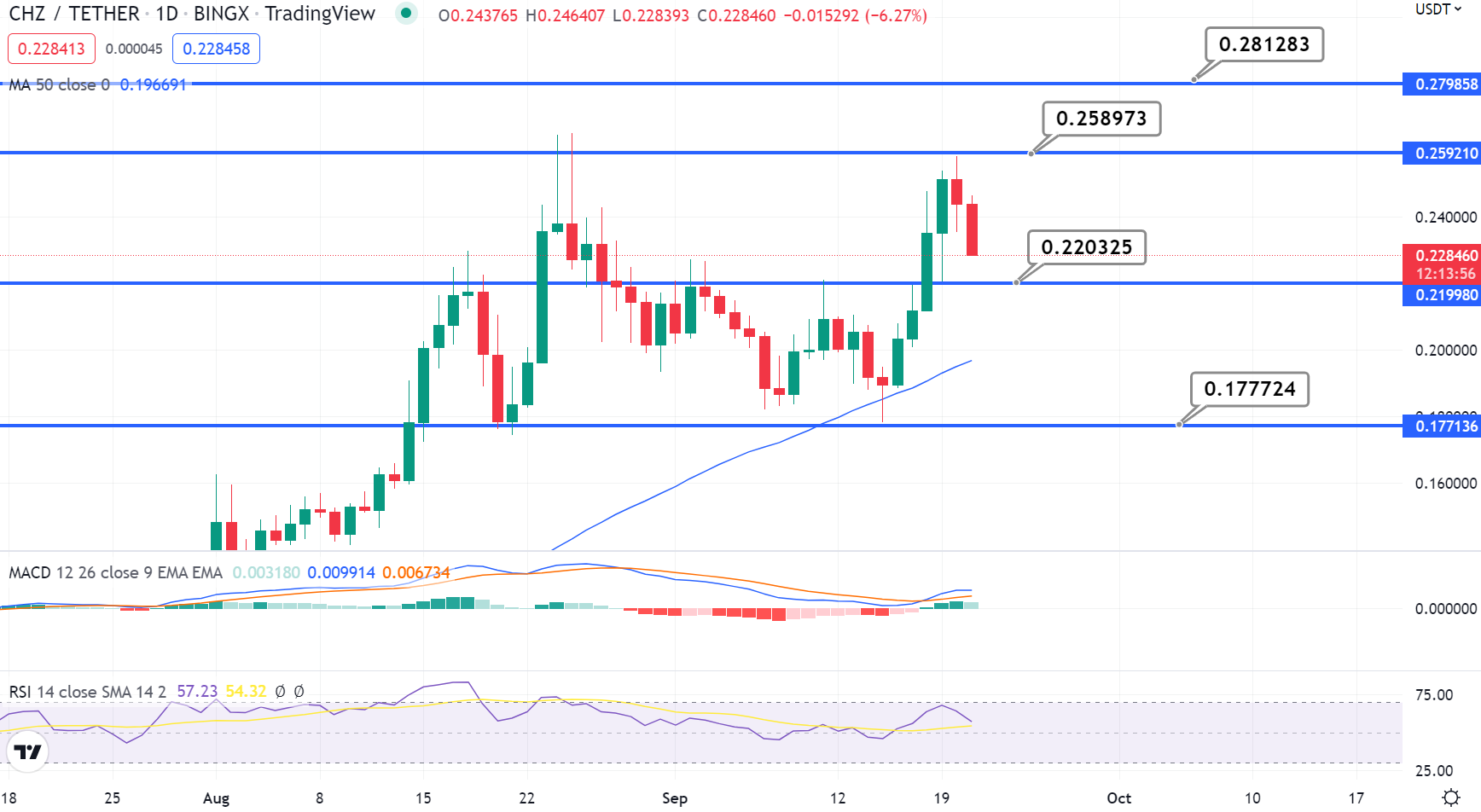 CHZ Price Chart – Source: TradingView
On the technical front, the CHZ/USDT is encountering strong resistance near $0.2590. A double top pattern extends this resistance, and the candle closes below this level, likely to fuel a selling trend.
On the downside, CHZ/USDT is likely to find immediate support at $0.2203, with a break below this level exposing CHZ price to the next support area of $0.1777. The 50-day exponential moving average will likely support CHZ near $0.1900.
In the event of a bullish breakout above $0.2580, CHZ is likely to target the 0.2815 level. The next price action in the CHZ/USD pair will be determined by the US FOMC and Fed Fund Rate decision.
Charts: TradingView
Disclaimer: Although the material contained in this website was prepared based on information from public and private sources that chiliznews.com believes to be reliable, no representation, warranty or undertaking, stated or implied, is given as to the accuracy of the information contained herein, and chiliznews.com expressly disclaims any liability for the accuracy and completeness of the information contained in this website.